Welcome to the machine....
SHOVELHEAD US as created to fill a void on the internet in finding a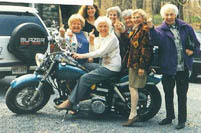 collection of pictures of classic Harley Iron. It has been expanded to include more history of the Shovelhead years as well as other features to help spread the word of the best HD's on the road. Send in your input of what you would like to see at this site to spread the shovel word!

So, come on in and explore Shovelhead.US! Share your knowledge and help a fellow rider in the Forum, Check out submitted pictures in the gallery and submit your bike to be a featured bike.
Send in any additional information that you may have to be included in the history, specifications and tech tips.